Our new research article "The Planar Polarity Component VANGL2 Is a Key Regulator of Mechanosignaling" has been published in Frontiers in Cell and Developmental Biology.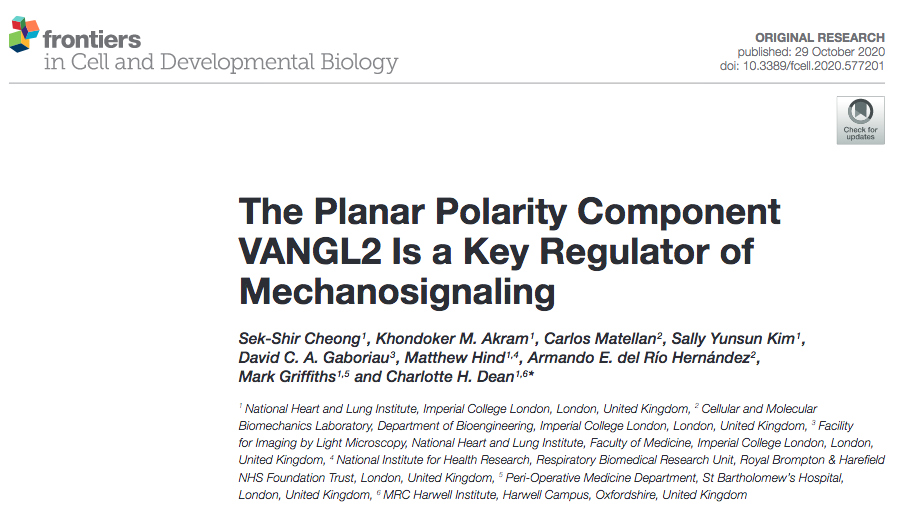 In this study, Dr Sek Shir Cheong discovers how a mutation in the VANGL2 gene (Vangl2Lp), in mutant mice, interferes with normal mechanosignalling and directed cell migration which contribute to abnormal formation of alveoli, the site of gas exchange in the lungs. Mechanosignalling, "mechano-signalling", simply put, is a signalling process induced by mechanical forces.
By monitoring in real time the movement of alveolar epithelial cells (an important cell type that form alveoli) in slices of lung tissue, we found that cells from the Vangl2Lp/+ mutant mice had slower and more restricted movement compared to cells from normal healthy mice. This resulted in fewer alveoli being formed, which reduces lung function in the mutant mice. To help us understand what causes the abnormal movement in these mutant cells, we isolated epithelial cells from the tracheas and lungs of Vangl2Lp/+ mutant mice, and labelled different components in the cells using antibodies. This process revealed that the Vangl2Lp mutation caused disruption of the actomyosin network (a kind of scaffold present in cells that is analogous to the musculoskeletal system in the human body), as well as focal adhesions, which function as molecular clutches, enabling cells to attach to their surrounding matrix. In addition we found a reduction in key proteins responsible for mechanosignalling within the lung epithelial cells. All of these abnormalities leads to the the cells being floppy as they are unable to generate force, thereby affecting their ability to move or migrate which is particularly important during the process of lung formation or lung repair after injury.
Lastly, we tested a drug WNT5A, a molecule that belongs to the same pathway as VANGL2, and showed that it could improve wound healing ability in the mutant cells, suggesting that WNT5A could be a potential target for lung repair.
This article highlights a previously unknown role of VANGL2 in command and control of mechanosignalling.