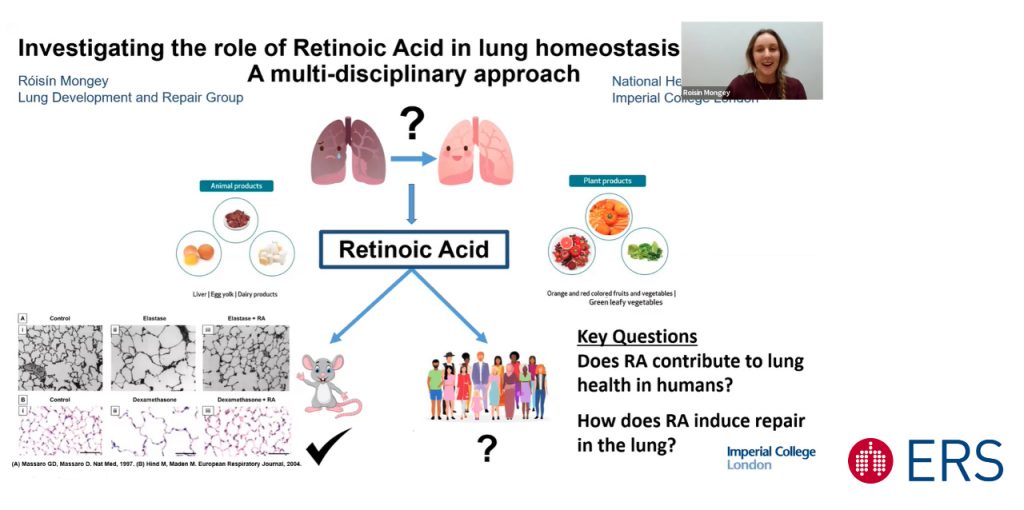 "The conference was a great opportunity to interact with experts in the field and to learn about exciting new developments at the cutting edge of lung regenerative science." – Róisín
"In March 2021 I won a bursary to attend the 19th European Respiratory Society Lung Science conference and present my work on 'Investigating the role of vitamin A intake and retinoic acid signalling in lung homeostasis and repair- a multidisciplinary approach'. The presentation summarised key findings from my PhD: using dietary intake and genetic data from the large UK Biobank population to study the association between vitamin A intake, retinoic acid pathway genes and adult lung function in addition to lab-based work using our novel Acid Injury and Repair (AIR) model to study and manipulate RA signalling following lung injury. The presentations involved an online poster as well as 3 minute oral presentation followed by a stimulating discussion session. I thoroughly enjoyed the experience and was honoured to win the best poster award for my session.
As a recipient of a bursary award, I was also able to take part in the mentorship programme during which I received invaluable advice on my career progression from leaders in the field.
The organisers did an exceptional job putting together the conference programme despite the challenges of an online format. There were many exciting talks from leaders across the field of lung repair and regeneration. Topics covered cellular differentiation and interaction in the alveolar niche, exciting novel scaffolds to replicate and repair the lung and new in vitro and ex vivo models for the study of lung disease and repair to name a few. The conference was a great opportunity to interact with experts in the field and to learn about exciting new developments at the cutting edge of lung regenerative science."
– Róisín