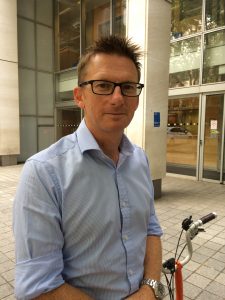 Dr Matthew Hind is a respiratory physician who believes the cellular and molecular cues which control development may be used to induce lung regenerative programmes conserved across species. He has used derivatives of vitamin A including retinoic acid, identified as essential for regeneration in a wide variety of animals and organ systems from limbs in axolotls, hearts in zebrafish to lungs of mouse and rat to study alveolar regeneration in human lung models of increasing complexity including primary cells, lung slices and ex vivo lung perfusion models of lung injury. Within the Lung failure group he has established a developmental lung disease clinic at Royal Brompton Hospital.
Selected Publications:
Proudfoot A, Bayliffe A, O'Kane CM, Wright T, Serone A, Bareille PJ, Brown V, Hamid UI, Chen Y, Wilson R, Cordy J, Morley P, de Wildt R, Elborn S, Hind M, Chilvers ER, Griffiths M, Summers C, McAuley DF.  Novel anti-tumour necrosis factor receptor-1 (TNFR1) domain antibody prevents pulmonary inflammation in experimental acute lung injury.   Thorax. 2018 Aug;73(8):723-730.
Hind M, Jordan S, Hansell DM, Nicholson AG, Neild G, Polkey MI. A man with progressive type II respiratory failure.  Lancet Respir Med. 2017 May;5(5):456. doi: 10.1016/S2213-2600(17)30139-X. Epub 2017 Apr 24. No abstract available.
Poobalasingam T, Yates LL, Walker SA, Pereira M, Gross NY, Ali A, Kolatsi-Joannou M, Jarvelin MR, Pekkanen J, Papakrivopoulou E, Long DA, Griffiths M, Wagner D, Königshoff M, Hind M, Minelli C, Lloyd CM, Dean CH.  Heterozygous Vangl2Looptail mice reveal novel roles for the planar cell polarity pathway in adult lung homeostasis and repair.  Dis Model Mech. 2017 Apr 1;10(4):409-423.
Ng-Blichfeldt JP, Alçada J, Montero MA, Dean CH, Griesenbach U, Griffiths MJ, Hind M.  Deficient retinoid-driven angiogenesis may contribute to failure of adult human lung regeneration in emphysema.  Thorax. 2017 Jun;72(6):510-521.
Dean C, Bingle C, Hind M. Delivering and phenotyping mouse models for the respiratory community: a report on the Biochemical Society Workshop Clin Sci (Lond). 2013 Nov;125(10):495-500.
Biomarkers of acute lung injury: worth their salt?  Proudfoot AG, Hind M, Griffiths MJ.  BMC Med. 2011 Dec 12;9:132.
Proudfoot AG, McAuley DF, Griffiths MJ, Hind M. Human models of acute lung injury.  Dis Model Mech. 2011 Mar;4(2):145-53.
Hind M, Maden M. Is a regenerative approach viable for the treatment of COPD?  Br J Pharmacol. 2011 May;163(1):106-15.
Hind M, Stinchcombe S. Palovarotene, a novel retinoic acid receptor gamma agonist for the treatment of emphysema.  Curr Opin Investig Drugs. 2009 Nov;10(11).
Maden M, Hind M. Retinoic acid in alveolar development, maintenance and regeneration.  Philos Trans R Soc Lond B Biol Sci. 2004 May  29;359(1445):799-808. Review.
Maden M, Hind M. Retinoic acid, a regeneration-inducing molecule. Dyn. 2003 Feb;226(2):237-44. Review.
Hind M, Corcoran J, Maden M.  Temporal/spatial expression of retinoid binding proteins and RAR isoforms in the postnatal lung.  Am J Physiol Lung Cell Mol Physiol. 2002 Mar;282(3):L468-76.
Hind M, Corcoran J, Maden M.  Alveolar proliferation, retinoid synthesizing enzymes, and endogenous retinoids in the postnatal mouse lung. Different roles for Aldh-1 and Raldh-2.  Am J Respir Cell Mol Biol. 2002 Jan;26(1):67-73.