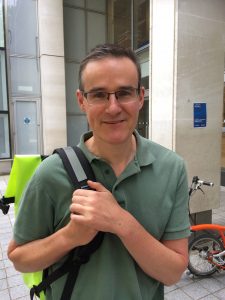 Professor Mark Griffiths is a consultant in adult critical care and has a special interest in acute respiratory distress syndrome (ARDS).  His work focuses on lung injury and repair, especially on cellular responses to mechanical stimuli and the biology of lung epithelial cells.  Current projects concentrate on human models of lung injury from isolated cells, lung slices, ex vivo lung perfusion to patients undergoing cardio-thoracic surgery.
Key Publications
Griffiths MJD, McAuley DF, Perkins GD, Barrett N, Blackwood B, Boyle A, Chee N, Connolly B, Dark P, Finney S, Salam A, Silversides J, Tarmey N, Wise MP, Baudouin SV (2019) Guidelines on the management of acute respiratory distress syndrome. BMJ Open Respir Res. 6(1):e000420. doi: 10.1136/bmjresp-2019-000420. eCollection 2019. PMID:31258917
Khondoker Akram, Laura Yates, Róisín Mongey, Stephem M Rothery, David Gaboriau, Jeremy Sanderson, Matthew Hind, Mark Griffiths, and Charlotte Dean (2019) Live imaging of alveologenesis in precision-cut lung slices reveals dynamic epithelial cell behaviour. Nature Communications 2019;10(1):1178. doi: 10.1038/s41467-019-09067-3
Proudfoot A, Bayliffe A, O'Kane CM, Wright T, Serone A, Bareille PJ, Brown V, Hamid UI, Chen Y, Wilson R, Cordy J, Morley P, de Wildt R, Elborn S, Hind M, Chilvers ER, Griffiths M*, Summers C*, McAuley DF*. Novel anti-tumour necrosis factor receptor-1 (TNFR1) domain antibody prevents pulmonary inflammation in experimental acute lung injury. Thorax. 2018; 73(8):723-730. doi: 10.1136/thoraxjnl-2017-210305.PMID: 29382797. *These authors contributed equally
Farre-Garros R, Paul R, Connolly M, Lewis A, Garfield BE, Natanek SA, Bloch SA, Mouly V, Griffiths MJ, Polkey MI and Kemp PR (2017) miR-542 promotes mitochondrial dysfunction and SMAD activity and is raised in ICU Acquired Weakness American Journal of Respiratory & Critical Care Medicine 196(11):1422-1433. doi: 10.1164/rccm.201701-0101OC. PMID 28809518
Richard Paul, Jen Lee, Anna V. Donaldson, Martin Connolly, Mohammad Sharif, Samantha Amanda Natanek, Ulrich Rosendahl, Michael I. Polkey, Mark Griffiths, Paul R. Kemp. (2017) miR-422a suppresses SMAD4 protein expression and promotes resistance to muscle loss. J. Cachexia Sarcopenia and Muscle 9(1):119-128. doi:10.1002/jcsm.12236
Poobalasingam T, Yates LL, Walker SA, Pereira M, Gross NY, Ali A, Kolatsi-Joannou M, Jarvelin MR, Pekkanen J, Papakrivopoulou E, Long DA, Griffiths M, Wagner D, Königshoff M, Hind M, Minelli C, Lloyd CM, Dean CH. Heterozygous Vangl2Looptail mice reveal novel roles for the planar cell polarity pathway in adult lung homeostasis and repair. Dis Model Mech. (2017) 10(4):409-423. doi: 10.1242/dmm.028175. PMID:28237967
Ng-Blichfeldt JP, Alçada J, Montero MA, Dean CH, Griesenbach U*, Griffiths MJ*, Hind M*. Deficient retinoid-driven angiogenesis may contribute to failure of adult human lung regeneration in emphysema. Thorax (2017) 72(6):510-521. doi: 10.1136/thoraxjnl-2016-208846. PMID: 28087752 *These authors contributed equally
Park JE, Lyon AR, Shao D, Hector LR, Xu H, O'Gara P, Pinhu L, Chambers RC, Wort SJ, Griffiths MJ. Pulmonary venous hypertension and mechanical strain stimulate monocyte chemoattractant protein-1 release and structural remodelling of the lung in human and rodent chronic heart failure models. Thorax (2014) 69(12): 1120-7. doi: 10.1136/thoraxjnl-2013-204190.
Bloch SAA, Lee JY, Wort SJ, *Polkey MI, *Kemp PR, *Griffiths MJ. Sustained elevation of circulating GDF-15 and a dynamic imbalance in mediators of muscle homeostasis are associated with the development of acute muscle wasting following cardiac surgery. Critical Care Medicine 2012 39(4):1000-11. *These authors contributed equally
Park JE, Shao D, Upton PD, Desouza P, Adcock IM, Davies RJ, Morrell NW, Griffiths MJ*, Wort SJ*. BMP-9 induced endothelial cell tubule formation and inhibition of migration involves Smad-1 driven endothelin-1 production. PLoS One. 2012, 7(1):e30075. Epub 2012 Jan 27. *corresponding authors.
Millar FR, Summers C, Griffiths MJ, Toshner MR, Proudfoot AG. The pulmonary endothelium in ARDS: insights and therapeutic opportunities. Thorax (2016) 71(5):462-73. doi: 10.1136/thoraxjnl-2015-207461.PMID: 26968969
Proudfoot AG, McAuley DF, Griffiths MJ*, Hind M*. Human models of acute lung injury. Disease, Models and Mechanisms 2011 4(2):145-153. *these authors contributed equally
Proudfoot AG, McAuley DF, Hind M, Griffiths MJ. Translational research: what does it mean, what has it delivered and what might it deliver? Current Opinion in Critical Care 2011 17:495–503